No. 1 North Carolina (3-0) v James Madison (4-0)
Chapel Hill, NC—Smith Center
Sunday 20th November – Noon
ACC Network ((Mike Monaco, Dan Bonner)
quotes
"I think there are some yellow flags in terms of our toughness. I think there are yellow flags in relation to our continued efforts. I think there are some yellow flags in terms of our commitment to defense. I think there are some yellow flags regarding our commitment to the scouting report and completing the things you have been asked to do. I think there are some yellow flags to get to the offensive glass. I think there are some yellow flags in regards to basketball sharing. I don't think there are red flags, but there are a number of areas where there are some yellow flags that need to be changed and will be changed." – UNC Coach Hubert Davis, after the Tar Heels Gardner-Webb with had defeated 72-66.
"It's going to take time and as he gets more comfortable, he will definitely play this role the way he did. I am proud of him. He's taken the next step and that's the beginning of what Pete can do." — UNC guard Caleb Love on teammate Pete Nance's 18-point breakthrough against Gardner-Webb.
Notes before the game
Looking for rebound: Top-ranked North Carolina completes their four-game home streak to start the season Sunday and would certainly welcome a return to normal on the boards. The Tar Heels were uncharacteristically passed (minus-6 respectfully) in their first three games. UNCW (37-32) and College of Charleston (35-32) grabbed more boards than UNC before the Tar Heels defeated Gardner-Webb 40-38 on the glass.
Last season, UNC ranked first in the ACC for rebounding and sixth nationally, with Armando Bacot's 13.1 rebounds per game the third-highest average in college basketball. Bacot had the fourth-highest total rebounds in ACC history (511) and the second-highest in NCAA tournament history (99) last season, but is yet to hit double digits this season. RJ Davis amassed 10 rebounds to lead UNC in that category against Gardner-Webb, the first time the 6-foot junior had led the Tar Heels in rebounding in three seasons.
Milestone Clock: The Junior Love has 988 career points and needs 12 more to become the 80th player in UNC history with 1,000 career points. The Tar Heels set an NCAA record: 79 players have reached the 1,000 point mark in their careers, including senior power forward Bacot, who hit that plateau in January of last season.
Earlier this week, North Carolina improved to 17-0 if Love scores 20 or more points. He delivered 17 second-half points against Gardner-Webb and finished with 20. He leads UNC with 20.7 points per game on the season despite only going 4 to 21 (19.1 percent) from the 3-point area has reached .
Promising for Pete Nance: The Northwestern graduate attempted just two shots against Gardner-Webb in the second half and fouled in the last four minutes of the game, but he had already delivered his best performance yet with the Tar Heels. Nance had season-bests in scoring (18 points), rebounds (five), and 3-point makes (three), and tied his season-high with three blocked shots.
Tuesday night got off to a quick start for the 6-foot-11 forward, who had six points against UNCW and seven against the College of Charleston in the season opener. Nance pumped in 14 of UNC's first 18 points against Gardner-Webb. He went into an open 3-point look, which he buried, and on the next drive he stroked in a fadeaway jumper from the baseline over Runnin' Bulldogs forward Kareem Reid, who fouled Nance on the shot. The free throw that followed gave UNC an 18:8 lead in the first 10½ minutes of the game.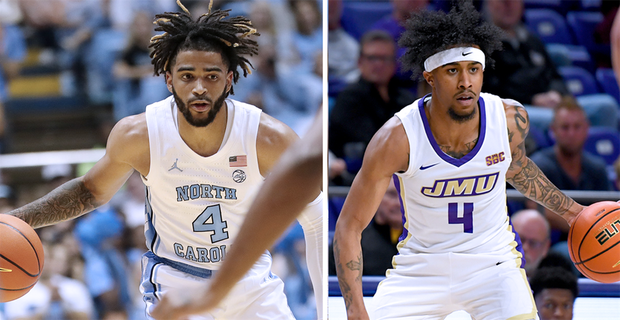 Dukes on Fire: As of early Saturday afternoon, James Madison's impressive 105.2 points per game is the second-highest scoring in the nation. Coach Mark Byington's red-hot Dukes crushed the Valley Forge Division III program 123-38 to open the new season and have since hung 106 points on Hampton, 97 points on Buffalo and 95 points on Howard while playing those matchups against the In three divisions, I won opponents by an average margin of 36.3 points per game.
JMU is shooting 58.6 percent from the field this season, including 54.1 percent (46 to 85) from beyond the 3-point arc. The Dukes have amassed an average rebound margin of plus 18.3 and forced 22.5 turnovers per game.
Rating Sources: JMU's roster consists of six players averaging 8 points per game or more young season. Senior guard Vado Morse, a second-team All-CAA selection last season, leads with 15.8 points per game. He went 5-for-7 from 3-point territory and delivered 17 points Tuesday night in the Dukes' 95-69 loss to Howard. Morse pumped in 22 points during the JMU 97-62 blowout against Buffalo.
JMU changed leagues and joined the Sun Belt. Terrence Edwards (13.5 points per game), Takal Molson (13.5 points per game) and Noah Freidel (12.5 points per game) also score in double digits for the Dukes. Molson is a two-time transfer from Seton Hall and Canisius, while Freidel is a transfer from South Dakota State. Both earned Rookie of the Year honors at their previous conferences, Molson in the MAAC (at Canisius) and Freidel in the Summit League.
Last meeting: North Carolina defeated James Madison 80-79 on November 24, 1989 at the Maui Invitational. Kevin Madden's 19 points and Rick Fox's 18 points led five tar heels in double digits.
UNC trailed coach Lefty Driesell's Dukes 79-70 with less than a minute left. An offensive rebound putback by Fox and a steal and 3-pointer by Hubert Davis reduced the deficit to four with 48 seconds left. Pete Chilcutt conserved a 3 to draw within 10 seconds. JMU turned the ball over on the next possession and King Rice hit an off-balance runner off the top of the key, who wedged in to lift the tar heels on the buzzer.
Series history: UNC leads the all-time streak 3-0, which includes two wins in NCAA tournament play and the other in the Maui Invitational. All three previous games between these teams were played at neutral venues, although the NCAA tournament matchups were played in Raleigh (1982) and Greensboro (1983).
Planned UNC launchers:
1 Leaky Black (Gr., 6-9, 205) – 9.7 ppg, 5.3 rpg
2 Caleb Love (Jr., 6-4, 200) – 20.7 ppg, 5.7 rpg, 3.3 apg
4 RJ Davis (Jr., 6-0, 175) – 14 ppg, 5.7 rpg
5 Armando Bacot (Sr., 6-11, 235) – 18 pages, 8 rolls
32 Pete Nance (Gr., 6-11, 230) – 10.3 ppg, 3 rpg, 2.3 bpg
Planned JMU starters:
4 Vado Morse (Sr., 6-0, 170) – 15.8 ppg, 3.8 apg
5 Terrence Edwards (Sun., 6-6, 190) – 13.5 ppg, 5.8 rpg, 3.8 apg
11 Justin Amadi (Sun., 6-7, 220) – 7.8 ppg, 4 rpg
13 Mezie Offurum (Gr., 6-8, 230) – 9.5 ppg, 5.3 rpg
15 Takal Molson (Gr., 6-4, 210) – 13.5 ppg, 3.5 rpg
UNC info
Schedule/Results
Roster & Bios
statistics
JMU Info
Schedule/Results
Roster & Bios
statistics